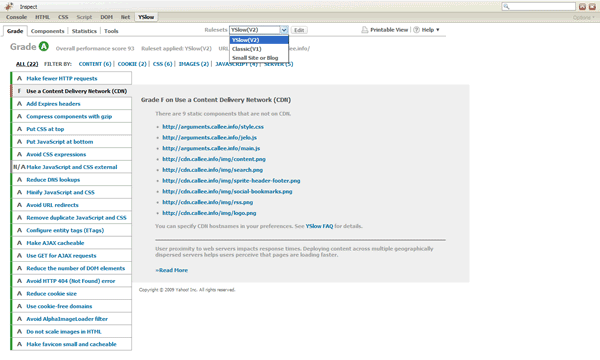 YSlow's main panel, your website's "Grade". Several rules were added to the new release, including tips on improving AJAX call performance, reducing the number of DOM elements to speed up render time, and warnings about HTML-scaled images.
The Ruleset dropdown (at the top of the panel) lets you choose between the original set of rules, the new and expanded set of rules, or a "small site" ruleset which excludes some evaluations such as the CDN requirement, which can drag down otherwise highly performant websites. This screenshot was taken on my homepage... Looking good at 93%!
Overall I think this is an excellent update to an already excellent web development tool. The new customization options will eliminate the need to "hack" the plugin via about:config, and the integrated tools panel will improve both speed to production and code review. Thanks Yahoo!