HB Stone
http://arguments.callee.info/2009/06/04/appcelerator-titanium-beta-launch/
appcelerator, titanium, titanium beta, open source, beta launch party
Join Appcelerator in San Francisco for the Titanium Beta launch party, June 9, 2009.
2009-06-04
114
P0M34S
personal
titanium
Titanium, Appcelerator's open source contender in the "web app as desktop app" arena, is moving to beta on Tuesday, June 9, 2009. To celebrate, they are throwing a product launch party at Apple's World Wide Developer Conference.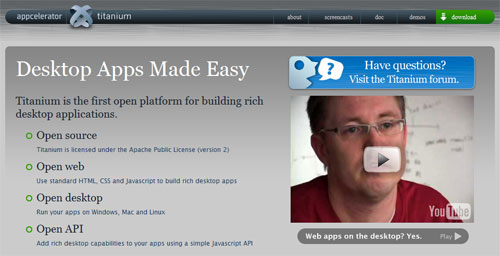 Get more information about Titanium on their homepage, or
follow @appcelerator on Twitter for the latest news.
I wish I could join the Appcelerator team at Jillian's in San Francisco (right across from Moscone), but due to a big product deadline of my own I won't be able to make it.
They've also been hinting at a big surprise announcement that will be made at the party, but haven't offered many clues as to what that might be... Any guesses?